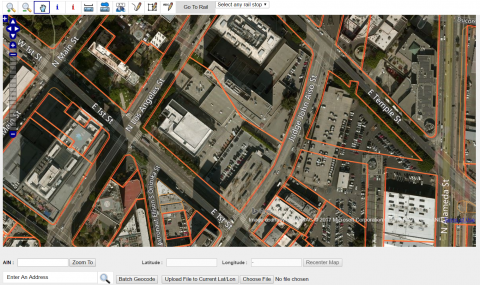 IndustryLands is a DealMaker Collaborative Platform, Limited to Big Industrial for Occupiers, Investors and Developers.
MAPP is a Geo-based tool set optimized for Big Industrial Deals Nationwide.
MAPP TOOL SET

Zoom, Pan, Identify Owner, Length Measurement, Area Measurement, Long/Lat, Annotate, Draw, Label, Rail Stops

Search by AIN/Parcel Number, Long/Lat Search, Address Search, Batch Geocode, Upload any file to Long/Lat, Geotag from Mobile Device
Layers
Map and Aerial View, Most U.S. Parcels, Heavy Industrial and Light Urban Rail, TOD, National Transportation Atlas (includes all major logistics nodes), Local Economic and Industrial Features
Collaborators
Occupiers, Developers, Investors, Institutional Finance, Private Equity, Building Owners, On-and-Off Market, Local and National
Current Uses
There are many use cases that are described on my personal blog, coming from personal experience. IndustryLands is optimized around infill industrial, new development, Occupier-In-Tow and TOD at Rail Stops. A more recent use is collaborating with my SIOR colleagues in the south and midwest to find higher return building investments the "fly-over" states for my West and East Coast clients. Another favorite is working with Occupiers on a nationwide basis especially in the area of long term Build-to-Suit. Personally, the application of tech to infill industrial is a vast opportunity for ecommerce, new production, robotics, sharing, work/live and autonomous transportation.
Wish List
Parcel Counter and Payment System
Social Media Registration
Different Versions of MAPP depending on client needs and level of collaboration
Link Individual Posts to specific Groups and Users.
Add more transportation and light rail layers. The number of useful layers is limitless.
There's much more we would like to do. The concept is to get better real estate intelligence out of MAPP and use that information for deal collaboration in IndustryLands. We have different levels of  financial participation for your use of MAPP and IndustryLands.
Please contact me anytime:
Jim Klein, SIOR; jimklein@kleincom.com; 310-451-8121